Browse our extensive inventory of over 700 firearms, and take advantage of our aggressive discount policy. Our selection includes all manner of handguns, rifles and shotguns; and the ammo and accessories to go with them. You may save 10% to 20% beyond our competitors, and during our ANNUAL ANNIVERSARY SALE, which is held the last Thursday, Friday, and Saturday of June, we take an additional 10% of everything, store wide. Many items go out at cost during this once a year sales event.
We take trade-ins, and therefore always have a good selection of second hand firearms in stock. You do-it-yourselfers will love our inventory of reloading supplies, including several brands of powders and primers.
We can even do mail order gun sales, and though we can't ship guns directly to an individual, we can ship firearms to your local dealer. Contact us for details.
---
News and Events
Ruger BX-25 magazines for the 10/22 are in stock for $29.95 each.
R-Guns stripped lowers in stock @ $99.95 ... stripped uppers @ $89.95.
Good selection of Stag, Bushmaster, Diamondback, and S&W AR style 5.56 M4 carbines now in stock ... all at discounted prices. We even have some MA compliant guns.
Ruger M77-GS .308 "Gunsite" rifles came in today. I have 3 guns only ... I haven't had these in for many months. Price is $819.95 each.
Tons of AR hi-cap magazines in stock. We have 20, 30, and 42 round magazines ... some metal, some plastic, different manufacturers. Your choice for $18.95 each. No purchase limits.
EOTech "BEAMHIT" laser dry fire and marksmanship training systems are in. The IDFS is $279.95 and the 190 PMTS is $239.95. Good selection of EOTech holosights are also back in stock.
We are now dealers for the LHS line of black powder rifles. The "Redemption" is the new break open model being produced by former employees of Thompson-Center. These rugged, well made muzzleloaders are made in New Hampshire and are in stock.
WE WILL BE HAVING OUR ANNIVERSARY SALE ON JUNE 27TH, 28TH, AND 29TH. BECAUSE OF SUPPLY SHORTAGES, NO BACKORDERS OR SPECIAL ORDERS WILL BE ACCEPTED.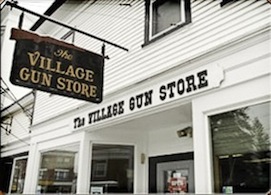 Go ahead and visit our Facebook page! Friend us and keep up to date with all our activities, sales, and new photos.
The Village Gun Store
4 King's Square
Whitefield, NH 03598
Ph: 603.837.2345
Fax: 603.837.3124

Email


Hours
Open Tuesday through Saturday:
Daily 10:00 AM to 5:00 PM
Friday's 10:00 AM to 6:30 PM

Closed Sunday and Monday,
and the entire month of February.