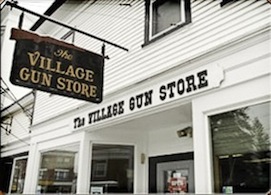 Browse our extensive inventory of over 700 firearms, and take advantage of our aggressive discount policy. Our selection includes all manner of handguns, rifles and shotguns; and the ammo and accessories to go with them. You may save 10% to 20% beyond our competitors, and during our ANNUAL ANNIVERSARY SALE, which is held the last Thursday, Friday, and Saturday of June, we take an additional 10% of everything, store wide. Many items go out at cost during this once a year sales event.
We take trade-ins, and therefore always have a good selection of second hand firearms in stock. You do-it-yourselfers will love our inventory of reloading supplies, including several brands of powders and primers.
We can even do mail order gun sales, and though we can't ship guns directly to an individual, we can ship firearms to your local dealer. Contact us for details.
---
News and Events
For 2014, we will no longer be selling NH Fish and Game licenses. They will be giving up on the traditional written licenses and be going strictly to computer printed ones. To continue our agency, we would have to buy a new laser printer and attend classes on using the new online license software. We decided not to do this.
Plenty of 9mm, .40S&W, .45ACP, .38 Special, .380ACP, and .44 Magnum ammo is now available at good prices.
SHOCKWAVE exploding targets for the .22LR are finally in stock. These are priced at $19.99 for a box of three targets.
WE DO NOT SCALP PRICES. ALL OUR PRICES ARE DISCOUNTED OFF MSRP.
OUR ANNUAL FEBRUARY BREAK WILL BE IN JANUARY THIS YEAR ... GUESS IT'S NOT REALLY A FEBRUARY VACATION. ;-) THE STORE WILL BE CLOSED FROM SUNDAY, JANUARY 5TH THROUGH MONDAY, FEBRUARY 10TH.